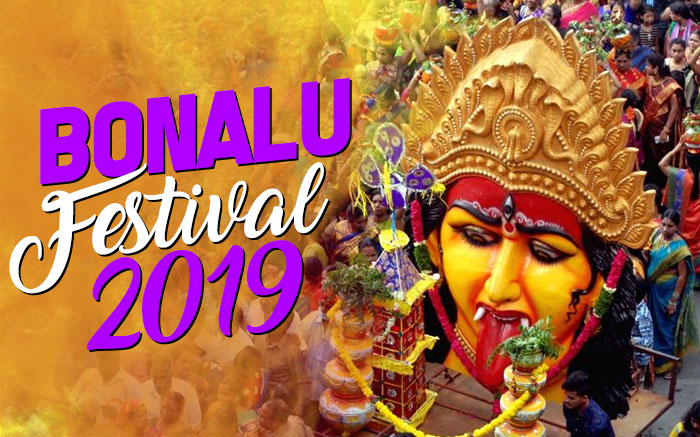 You can watch and download some beautiful Bonalu Songs from here
Bonalu — popularly known as Goddess Mahankali Bonau — is one of the Hindu festivals, which is widely celebrated in Hyderabad, Secunderabad and some others parts of Telangana. On the occasion of Bonalu, Hindu people living in the mentioned regions worship the Goddess Mahankali. The festival falls in the month of Ashada Masam, means in the month of July or August. This year, Bonalu began from 7th July and will end on 28th July 2019.
Hindus perform some special poojas for Yellamma on the first and last day of the festival. Bonalu is said to be a thanksgiving to the Goddess for the fulfilment of their vows.
What actually Women do on Bonalu Festival?
The word Bonam is a Sanskrit word which means a meal or a feast in Telugu. On the occasion of Bonalu, Women cook some rice with milk and Jaggery in a new Brass or Earthen Pot adorned with Neem leaves, turmeric, Vermilion and a lit lamp on the top of the Pot. The same pot they carry on their heads and make an offering of Bonam along with Turmeric-Vermilion, Bangles and Saree to the Mother Goddess across the Temples. Rath Yatra 2019: Not Only Puri But These Temples Too Celebrate Lord Jagannath's Festival
Origin of Bonalu Festival
According to reports, the festival was originated in the 18th Century and it is linked with the "Regimental Bazaar" and the twin cities of Hyderabad and Secunderabad. As per the report, in 1813, Plague disease spread like a wildfire and resulting in thousands of people died. Prior to that a military Battalion from Hyderabad was beefed up to Ujjain. When they got to know about this disease they started praying to the Mother Goddess in Mahankaal Temple – Ujjain, Madhya Pradesh to eliminate this disease from the region.
Those who were alive vowed that if Goddess would kill the disease they all will install an idol of Goddess Mahankali in their city. It is reported that the Goddess Mahankali terminated the disease and saved them. Then, the military battalion returned to the city and installed an idol of the goddess, which was followed by the offering of Bonalu to her. Since then, this has become a tradition, which has been followed by hundreds of years by people in Telangana.
There is another mythological story behind the origin of Bonalu festival. The story tells that this is the time when Goddess Mahakali comes back to her parental home, in Ashada Maasam or the period from late June to August, and so, it is believed that there is no better time than this to perform poojas to Bonalu.
Top 5 Special Bonalu Songs
There are several Bonalu songs are available on the internet which can add joy to your fun. Yes, we have listed down top 5 Bonalu songs to make your festival days more special. Check out the songs below:
Pedda Puli is a song dedicated to Bonalu festival. The song was shot for Telugu film Chal Mohan Ranga. The lyrics of Pedda Puli is written by Sahithi and sung by Rahul Sipligunj. The film Chal Mohan Ranga stars Nithiin, Megha Akash in lead roles.
This beautiful song is from Telugu movie Amma Bailelinado. You can download this special Bonalu song from Gaana for free. The song is sung by Shankar and Eshwar and its lyrics was written by Lingaraj.
Bora Banda Meeda is also from the same movie titled Amma Bailelinado. You can download this Bolanu special song from Gaana.com and listen on this holy festival. The song is composed by G L Namdev and it is sung by Ramesh and Eshwar.
Telangana folks listen Tali O Mankalama on the occasion of Bonalu festival. Yes, this is one of the most popular Bolanu songs, which is from Telugu film Amma Bailelinado. You can download and listen to this song from Gaana.com. It is sung by Jayshri and Ramesh and composed by JL Namdev.
This Bolanu special song Amma Ro Mankali is sung by renowned singers named P Susheela. The song is from Telugu movie Thirugulleni Manishi. You can download this festival song Gaana.com
Bonalu Images – Pictures of Festivals of Telangana
After Bonalu Songs, we have also collected some beautiful pictures from Bonalu around different parts of Telangana. You can check out the pictures of Bonalu festival below: