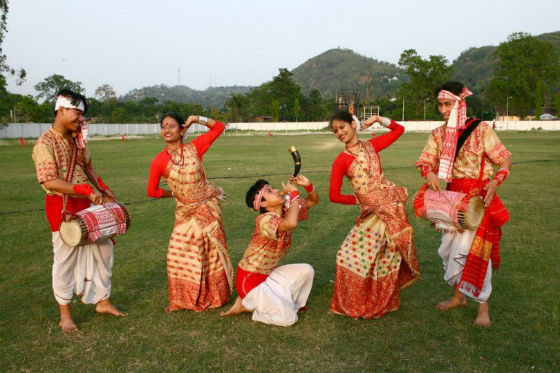 Bihu 2020 will be one of the biggest festivals of northeastern state Assam. Bihu is the largest festival celebrated in Assam. People in Assam celebrate this festival with immense devotion. This festival marks the New Year in the state of Assam. Bihu 2020 will be celebrated on 15th January. This festival is mainly celebrated by the farmers in Assam. It is said that Bihu is the festival of crops and is celebrated at the time when farmers cut the crops after yields.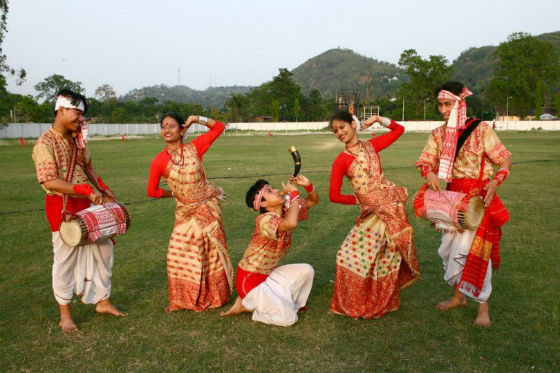 The festival of Bihu is celebrated three times a year. The first time it is known as Rongali Bihu or Bohag Bihu, the second is Bhogali Bihu or Magh Bihu and the third is Kati Bihu or Kangli Bihu. Rangilo Bihu marks the beginning of the growth of crops. The Bohag Bihu falls at the time of cutting the crop yields and the Kati Bihu is the time of fair when people enjoy dancing and having fun in the fair, praying for better yields next time.
Most popular of all the three, Bohag Bihu is celebrated on the onset of spring season and the Assamese New Year. It is also the first day of the Hindu Solar Calendar in many parts of the country.
This festival is celebrated by observing a seven days time of feasting, rituals and merriment. The fields are prepared by the farmers for cultivation of paddy and cows are worshipped. People performing the traditional Bihu dance, the major highlight of this festival which is extremely popular in the North-eastern states of India. They also visit the fair organized for the celebration of Bihu.
Also Read: Free Online Horoscope Compatibility Match
Bihu 2020: What is the history of Bihu dance?
In a temple called Harhi Dewaloi, the first form of modern Bihu dance was developed. Later on, this dance was adopted by other communities, and is nowadays, performed at a lot of other places.
Bihu 2020: Importance of Bihu Festival
In this section of Bihu 2020 update we will describe the Importance of Bihu. Bihu is majorly the festival of crops and the speciality of the festival is that everyone wakes up early and is supposed to take a bath after applying the paste of turmeric mixed with a bean called urad. It is a ritual commonly followed. After that, people wear new clothes and take blessings of elders in the house.
People exchange gifts, greet each other and seek blessings of elders. Friends and family organize a get-together for sharing a good meal. It is believed that on this day, generally, first raindrops fall on the soil, spreading lovely odour and beautifying the mother Earth. Not only crops but also animals and birds initiate a new phase of life this day onwards.
Young girls and boys wear traditional clothes and perform Bihu dance to the beats of music played by a special band who are experts in playing traditional instruments, that too in unison.
Bihu 2020: What are the traditional delicacies of Bihu?
Traditional delicacies are an integral part of festivals. People of Assam also cook food, the traditional way, and serve it to the guests who visit their place. Mangosh, masor tango, jaakh, khar and aalu patik are a few dishes served during this festival.
All the dishes prepared are made using traditional methods that are different from everyday cooking. The dishes also taste different. Mangosh is mutton curry eaten commonly with Luchi (fried rice). Masor tango is fish curry and Khar is made from papaya and banana. Jaakh is made of green leaves and Aalu Patika is made of boiled potatoes. These all details were for traditional delicacies of Bihu 2020.
Also Read: Health & Fitness Report
Three types of Bihu –
Bohag Bihu 2020
The most popular Bihu, this seven-day festival is a festival filled with merriment and fun. Rituals are followed for receiving a prosperous life. Rituals have been followed for years and are critical to celebrations as they promote the culture which keeps us connected with our roots. In the update of Bihu 2020 let's explain all types of Bihu that people celebrate in Assam.
The first day of this Bihu is called Goru Bihu or Cow Bihu. On this day, the cows are given a bath and worshipped. In 2020, this festival will be celebrated on the 14th April. This is followed by Manuh Bihu which is the New Year's Day in Assam. The third day is Gosai Bihu which means Gods' Bihu. The ritual of worshipping the God is performed and homes are cleaned and prayers are done for a good year ahead. The folk songs associated with Bohag Bihu are called Bihugeets or Bihu songs. The celebration varies among different groups within the same community. The other four days are known as Chot Bihu, Snehi Bihu, Mela Bihu and Chera Bihu.
2. Kati Bihu 2020
Now let's talk about Kati Bihu from this update of Bihu 2020. With an atmosphere of calmness and peace, celebrations of Kati Bihu are not very pompous. This is the time when the granaries of the farmers are almost empty and the paddy is yet in growing stage. Earthen lamps are lit near the Tulsi plant, granary and paddy fields in the hope of a good yield of crops.
Cultivators whirl a bamboo piece and recite some chants known as rowa-khowa and spell ward-off to protect the crops from the eyes of evil. The ritual of showing the dead souls, the way to heaven is also performed by lighting lamps on the tip of a tall bamboo pole.
3. Bhogali Bihu 2020
Here, from Bihu 2020 update we will explain about the Bhogali Bihu. The word Bhog means eating and this is what the Bhogali Bihu is about, along with all the enjoyment a festival offers. Since granaries are full during this part of the year, a number of delicacies are prepared. It is a day of celebration dedicated to the hard work of the farmers. Young men go to the field near the river and build a makeshift cottage which is known as Bhelaghar which is the most important thing for the night celebrations. Bhelaghar is made using hay from the harvested fields.
At night time, food is prepared and feasts are organized everywhere. People sing Bihu songs and there is an exchange of wishes and sweets with friends and family. People spend the entire night around a bonfire or Meji and dhol is played which is a typical kind of drum. Boys enjoy stealing firewood and vegetables for fun.
Various sports like cock-fight, buffalo-fight and nightingale-fight are organized by people for enjoyment. There are also other
conventional festivals that are observed by other groups. For instance, Bihu is celebrated as Pushna by the Koch community people.
People take a bath after waking up the next morning of Bhogali Bihu and the Meji is burnt. Next, the ritual of offering prayers to God is performed. People carry half-burnt pieces of firewood to throw on the fruit trees, hoping for good yields. Paddy stems or bamboo strips are used for tying the trees in a compound.
Also Read: Horoscope for Today
Bihu 2020: Why to celebrate Bihu?
Many of us must be aware about Bihu 2020 but here we will provide you the reason why Bihu get celebrated every year.
Festivals spread happiness. Celebrating Bihu is a way to honour the efforts of peasants and thanking them for going through all the hardships to grow crops.
Dance and music are inevitable to cultural norms.
After all the hard work, the feast is a well-deserved.
Festivals bring friends and family together and bonds turn stronger than ever.
Preserving the culture with the traditional food, clothes, dance and following the rituals is what makes India a culturally strong nation. It is essential to preserve cultural values.
Festivals are one of our excuses to give a visit to homeland, no matter where you are living.
Rituals performed in any festival makes a person spiritually strong.
Festivals are a means of bringing communities together.
If you wish to experience the diverse culture of North-East India, plan a vacation and join them in their celebrations. Harvest festivals are celebrated across the nation but this festival celebrates all three levels that a crop goes through before the final yield. Assam is a beautiful place, and so are the customs they follow. And if not in Assam, while being at home, cherish the efforts of farmers and show some gratitude.
AstroCAMP wishes you a Happy Bihu 2020.